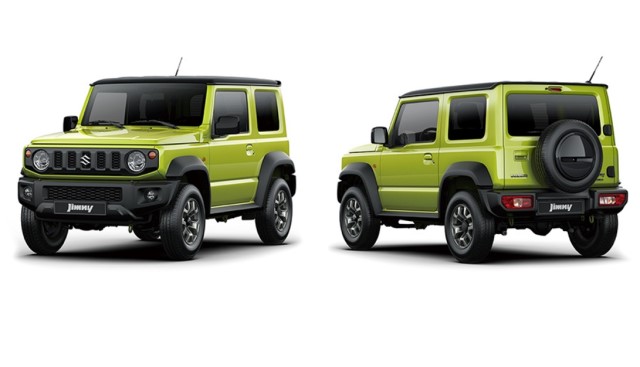 The predecessor of the Suzuki Jimny went on sale way back in 1998 and was still available 20 years later. Sure, it may have been tweaked here and there in that time, but it remained essentially the same car. Not that the current model has changed that much, either; underneath the retro bodywork is the same combination of a ladder frame chassis, live axles front and rear plus long-travel coil-spring suspension.
Four-wheel drive is standard, because the Jimny is an off-roader first and foremost. That sets it apart from rivals such as the Seat Arona and Kia Stonic.
Engine and gearbox
An automatic unit is available, but there are only four gears, so you need plenty of revs to get it to do anything, and it doesn't change up until over 4000rpm. There's no denying getting to motorway speeds is a real struggle, but once you're there it sits relatively happily, even if it doesn't sound like it.
But the Jimny isn't really designed for the road. It's an off-roader through and through, and you can't fault its capabilities when you get it onto the muddy stuff. All Jimnys come with part-time, low-range four-wheel drive. Once engaged, there's no other configuring required, unlike with the myriad settings in a Land Rover. Just hit hill descent control, if you like, and prepare to take on mud going up hills, gravel going down hills or deep water with staggering capability. In fact, the Jimny can outperform cars costing far more on a challenging off-road course.
Noise and vibration
The 1.5-litre petrol engine needs working hard before it'll deliver its modest power reserves, generating a fair bit of noise. Not only is it loud, but it also sounds strained, especially as you approach the upper reaches of the rev range.
Not helping matters is the fact that both the manual and automatic gearboxes have short ratios, meaning the engine is loud at motorway speeds. Add plenty of road and wind noise into the mix and it's a car that will have you reaching for the volume control on the stereo. A relaxed cruiser it is not.
Interior
Getting comfortable behind the wheel shouldn't prove troublesome for most people, thanks to plenty of fore-and-aft adjustment on the seat. The steering wheel only adjusts for height, though, so taller people might find it a little far away.
While we're on the subject of seats, the side bolsters are a bit weak, so they aren't very good for holding you in place around corners. We also wish the armrest on the door were padded.
The controls have been designed to be used by a gloved hand, so all switches, rotary controls and even the infotainment screen is big and easy to operate. The dials on the instrument panel are easily readable and there's a digital information panel between them that can offer information such as speed and fuel economy.
The Jimny is rather utilitarian. The doors and tailgate feel quite light and tinny when you close them, while the interior plastics, including those on top of the dashboard and lower down, are hard to the touch. But while the Jimny isn't exactly plush inside, its interior does at least feel durable and well assembled, and you can wipe it clean to get rid of muddy scuffs from gloves or wellies.
There's decent headroom for tall adults in the front, and while the Jimny is narrow, you shouldn't be rubbing shoulders with the person sitting next to you. There's only two seats in the back of the Jimny, and the car's short length limits the amount of leg room. But you'd be surprised how much it can offer, with two average-height adults sitting behind one another quite happily. That said, the rear seats are flat, uncomfortable and quite close together, while access is restricted by the three-door layout.
Find Out More