Toyota GR Yaris 2021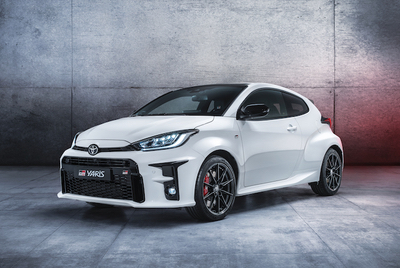 The new Toyota GR Yaris is no normal hot hatch. Incorporating knowledge and technology born from WRC, to deliver a true sports car feeling every day. Developed with the experts at Toyota Gazoo Racing World Rally Team, GR Yaris incorporates advanced technology including GR-FOUR our first sports AWD system in 20 years, and a thrilling 1.6-litre, 3 Cylinder Turbo engine. Lightweight and exhilarating. The New GR Yaris is born from WRC. Featuring motorsport technologies never seen before in a production car, the newly developed three-cylinder, 1.6-litre turbocharged engine delivers outstanding acceleration and response. Incorporating Toyota-first techniques and materials, such as a unique block, bespoke pistons and a single-scroll ball-bearing turbo to reduce weight and enhance drivability, GR Yaris has the power to make every journey come alive.
Unlike most new cars, the GR Yaris hasn't been designed to turn heads, but to lift trophies – in style. Low, wide and dramatic, its aerodynamic design employs a host of weight-saving materials to ensure it wins on the challenging crests of Rally Finland and the flowing curves of your favourite road.
The new GR Yaris is a pure performance car, born from Toyota's title-winning experience in the World Rally Championship. It brings motorsport technology and design directly to the world of the road car, true to TOYOTA GAZOO Racing's ethos for making ever-better cars that are rewarding and fun to drive. The GR Yaris simply does away with the rear doors. The roof is carbon fibre saving 3.5kg, the door skins, bonnet and tailgate are aluminium, removing another 24kg. It's not even a Yaris chassis underneath. The front half is, but the rear is adapted from the Corolla and CH-R. There are 4,175 weld points, 259 more than a Yaris, plus 35.4 metres of 'structural adhesive'. The rigidity of a safe, in other words.
It has the Yaris' 2,560mm wheelbase, its light clusters, door mirrors and roof fin. But that's it. It's 55mm longer, 60mm wider and 45mm lower (actually closer to 100mm lower at the rear). Under the bonnet is the world's most powerful production three cylinder, a 1.6-litre with 257bhp and 266lb ft. Its single turbo spins on ball bearings, while the engine itself is hydraulically mounted on one side to reduce vibration and unwanted movement. The sort of tech that front line supercar firms like to bang on about.
No paddleshifts here. The only choice is a six-speed manual, and the 4WD system is claimed to be the lightest on the market. Lightest, but not most basic. There's an aluminium central transfer case and in Normal mode the torque is split 60:40 front to rear. That alters depending on the mode you choose. Sport is 30:70 and Track 50:50. Skids or grip, you decide. At the rear there's an electronically controlled clutch pack to divide torque between the wheels.
Alternatively you can tick the Circuit Pack box. As well as lightweight 18in BBS forged alloys, retuned suspension, Michelin Pilot 4S tyres and red brake calipers, you get mechanical front and rear Torsen diffs. Same torque split control, but more grit and guts in the system. More rally. Too much? Have the standard one and add the Convenience Pack (JBL premium audio system, ambient lighting, head-up display and more). It's an either/or thing, you can't have both packs.
The whole thing weighs 1,280kg, is good for 0-100kph in 5.5secs and a 230kph top speed. In other words, it's small, light and fast, eschewing the typical trend of gaining size and weight. Good.
It's a genuinely exciting car this, a hot hatch with a real purpose in life. After all, when was the last time we had a proper rally homologation special, something we can all aspire to? Not since the Imprezas and Evos of the 90s. This, then, is a once in a generation special. And the best news of all is that Toyota has smashed it out of the park.
Contact Us Now to Pre-order the GR Yaris