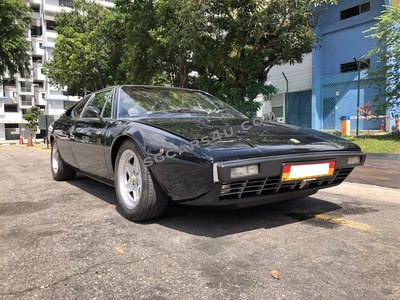 Although buying a new Ferrari comes with a lot of strings attached, that's not the case with classic Ferraris. And, although many vintage Ferraris often sell for more than new ones, there are some priced at more attainable levels. However, there's one classic affordable Ferrari that's usually forgotten about. That's the classic Ferrari 308 GT4—and it's definitely worth your consideration.
The Ferrari 308 GT4 wasn't actually, technically, a Ferrari. It was badged 'Dino', after Enzo Ferrari's late son. As the 308 GT4 didn't have a V12, it wasn't considered a 'true' Ferrari. The original lack of a classic Ferrari badge may also explain the 308 GT4's styling. Traditionally, Ferraris have been styled by Italian firm Pininfarina. The GT4, though, was designed by Bertone, the firm behind legends like the Lamborghini Countach. But that's not the Ferrari 308 GT4's only claim to fame.
The 308 GT4, though, featured Ferrari's first-ever production V8, a 2.9-liter developing approximately 240 hp. And, despite its mid-engine layout, it's also the first Dino 2+2. And because it didn't have emissions equipment like the later (and higher-priced) 308 GTB, it's actually faster and lighter than the later car. The 308 GT4 has excellent visibility—more so than the later GTB. The seats are comfortable, and there's enough headroom even for people over 6' tall. The car has four-wheel disc brakes that feel almost modern, and the mid-engine layout with independent suspension all-around means the GT4 handles well.
As with any used car purchase, especially a used classic car, we recommend giving the car you're interested in to a trusted mechanic for an inspection. But, when it comes to the 308 GT4, you're getting a classic Ferrari experience without having to break the bank.