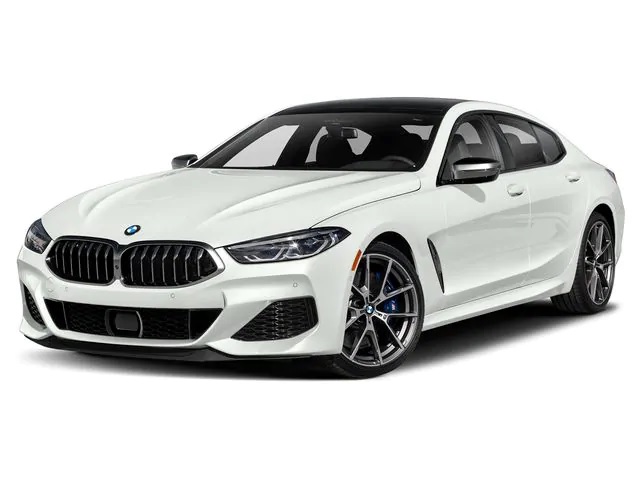 This is the BMW M850i xDrive Gran Coupe, the German firm's answer to hot versions of the Porsche Panamera. It's a car tasked with doing a multitude of things: firstly, being based on the 8 Series coupe, it's a GT at heart not a full-on sports car, but that the application of BMW's M Performance tag for this M850i means it needs to marry that comfort and cruising ability with performance and handling, so it has to be fundamentally good to drive. On top of that, those extra doors and rear seats also mean it now has to pull off 7 Series levels of luxury and comfort.
There's certainly no doubting its performance credentials. Nestled beneath the bonnet is a 522bhp 4.4-litre V8 that develops 750Nm of torque. Paired up to an eight-speed automatic gearbox and four-wheel drive means 0-100kph in taken care of in 3.9 seconds. Staggeringly quick for a car weighing 2,070kg.
That speed is also matched to an impressive level of agility and composure on the move for such a big car. The Gran Coupe carries an extra 231mm of bodywork over the regular coupe - 201mm of that is between the wheels - but you'd never know as it feels just as balanced as precise. The steering is really sharp, and in combination with the rear-wheel steering, helps to enhance its responses making it feel like a much smaller, nimbler car.
Hit Sport mode and everything tightens up; the steering becomes heavier, the ride becomes noticeably firmer and the noise from the exhaust amplified through the speakers in the cabin. The engine has bundles of power throughout the rev band so relentless and rapid progress is never in short supply. It does an uncanny impression of a sportscar, even at over five metres long.
It's as luxurious as a 7 Series upfront but passengers in the back may have some gripes. Although the Gran Coupe is as long as BMW's flagship saloon, that swooping roofline comes at the expense of headroom in the back. Knee room for large adults is acceptable but you can only seat two in the rear as the centre console runs the entire length of the car. In truth a 5 Series is more accommodating and comfortable in the back.