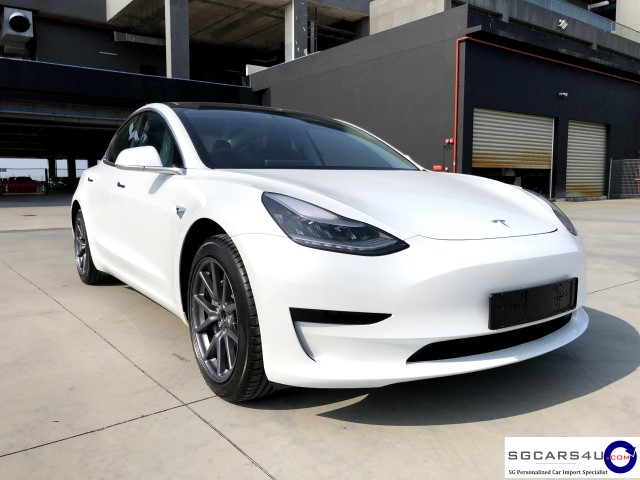 The Tesla Model 3 is an electric four-door sedan developed by Tesla. Look no further if you have been longing to buy a Tesla Model 3 in Singapore at a fraction of the cost from local parallel import agents.
Inside the Model 3, you can use your smartphone as a key and access all driver controls in the large, 15-inch central touchscreen. It has a forward-designed instrument panel. Therefore, this provides more legroom in the front. The premium centre console has plenty of covered storage as well as four USB ports and two docks for charging smartphones. Look up and the all-glass roof extends from the front to the back. As a result, this creates a huge sense of airiness from every seat.
The Tesla Model 3 comes standard with 12-way power-adjustable heated front seats, upgraded audio with music and media over Bluetooth, premium seat material and trim in black, 18-inch Aero wheels and park assist with reversing camera and a whole slew of safety features including knee, front, side and curtain airbags, autopilot (cost option) with Traffic-Aware Cruise Control, Autosteer and Auto Lane Change and Collision avoidance assist.
Three variants are available to order: Standard Range Plus; the Long Range; and the slightly more insane, flagship Performance.
The Model 3 Standard Range Plus version delivers an EPA-rated all-electric range of 402 km. With an on-board charger (7.6 kW at 32 A), the Standard Range Plus is capable of accelerating from 0 to 100 km/h in 5.3 seconds. Hence, if the electronic accelerator pedal is depressed long enough, top speed is an astounding 260 km/h – faster than many sports cars and performance hatchbacks and saloons.
The mid-level Long Range AWD version delivers an EPA-rated all-electric range of 518 km. It comes with sensible upgrades that make the most of the Model 3's strengths — namely, its extensive range and charging capabilities. This trim has up to 116 more km of range than the base version, plus a faster onboard charger for juice-ups on road trips. In addition, it also adds all-wheel drive, a boon when you want to experience the larger battery's impressive acceleration.
With a range of 518km, the Long Range Dual Motor AWD here is capable of accelerating from 0 to 100 km/h in 4.4 seconds – faster than many sports cars and performance hatchbacks and saloons.
The Model 3 carries full self-driving hardware, with periodic software updates adding functionality. Tesla's design chief Franz von Holzhausen said that the Model 3 will "be an Audi A4, BMW 3 Series, Mercedes-Benz C-Class type of vehicle that will offer everything: range, affordability, and performance" that is targeted toward the mass market. While technology from Tesla's Model S will be used in the Model 3, it will be 20% smaller than the Model S and have its own unique design.
Limited production of the Model 3 began in mid-2017, with the first production vehicle rolling off the assembly line on July 7, 2017. The official launch and delivery of the first 30 cars was on July 28.
Total deliveries passed the 100,000-unit milestone in October 2018, and cumulative sales since inception totaled 448,634 through December 2019. The Model 3 topped global sales of plug-in electric cars in 2018, and also listed as the top-selling plug-in passenger car in the U.S. and California in 2018. As of March 2020 the Tesla Model 3 is the world's best-selling electric car, with more than 500,000 sold worldwide.
Read on for more information on the Model 3 ......
---
Tesla Model 3 Cost in Singapore
In declaring its ambition to phase out internal combustion engine (ICE) vehicles within the next 20 years, Singapore will make electric vehicles (EVs) more attractive from year 2021. An early adoption incentive scheme will be rolled out for EV buyers from 2021 to 2023. It will offer a 45 per cent rebate on the car's Additional Registration Fee (ARF, the main car tax), capped at $20,000 per vehicle. Also, the road tax for EVs and some hybrids will be revised to be less punitive. The VES scheme will also be skewed more towards less pollutive vehicles, resulting in a $25,000 VES rebate for the Tesla Model 3 from 2021. Singapore will also expand the EV charging infrastructure significantly from 1,600 points now to 28,000 by 2030.
Now, the 6 month road tax for a Tesla Model 3 Standard Range Plus (211kW) in Singapore will set u back by about $1862. From 2021, it will be revised south to $1246. The new government incentive will also result in a saving in the total vehicle cost of $20,000 due to the 45% ARF rebate. Therefore, from 2021, the estimated total cost (w/o COE) for a Tesla Model 3 Standard Range Plus in Singapore will be about $154,000 (based on cost price in November 2020 and 2021 VES scheme with $25,000 VES rebate).
Tesla Model 3 Singapore Price (w/o COE) - Standard Range Plus Trim with Pearl White Paint
From 2021: $154,000
---
Ownership Costs for a Model 3
The Tesla Model 3 is a fully electric vehicle. Without any internal combustion engine, one can save on maintenance costs that is necessary for a conventional vehicle propelled by an internal combustion engine. Well ... let's list down the typical running costs involved during the ownership process of a Tesla Model 3 with an average annual mileage of 20,000km in Singapore.
Electricity $1200 per year based on SP Group public charging rate at $0.414 per kWh ($500 if private charging at $0.1768 per kWh)
Annual road tax $2492 (based on 211kW output) from year 2021
Motor insurance $2000 (estimate, after less 50% NCD)
Routine maintenance

Tires - rotation/balancing every 1 year $30
Brake fluid replacement every 2 years $100
Cabin air filter replacement every 2 years $50
Windscreen wipers replacement every 2 years $30
Air-con servicing every 2 years $200
Adding up the above costs, the yearly running cost for a Tesla Model 3 in Singapore averages out to be about $6,000. Big costs that your usual combustion engine car will have in 5 years that EVs don't have are 1 or 2 brake jobs, many oil and filter changes, accessory belt replacement, and engine air filter and fuel filter changes. If you keep your car past 5 years, with a gasoline/diesel car you can count on some big repairs like timing belts, fuel system treatments, replacing fuel injectors, spark plugs and wires, water pumps, alternators, starter motors, catalytic converters, mufflers, engine mounts, oxygen sensors, and head gaskets to solve oil leaks. EVs don't have any of those parts, so they can't break.
---
Practicality of a Model 3
The Tesla Model 3 is intended to tempt Singapore buyers away from three-box saloons like the BMW 3 Series, Mercedes C-Class and Audi A4, so it makes sense that it also takes a similar approach to housing its occupants and luggage. It's a four-door saloon with an ample boot, plus a separate storage area under the 'bonnet' – one of the benefits of doing without a traditional internal combustion engine.
The Tesla Model 3 is pretty spacious inside and its minimal design helps add a sense of airiness. It's easy to get comfortable in the driving seat thanks to 12-way power-adjustment options and visibility is excellent; big windows all round and an unobstructed view forward add to the car's easy-to-drive nature.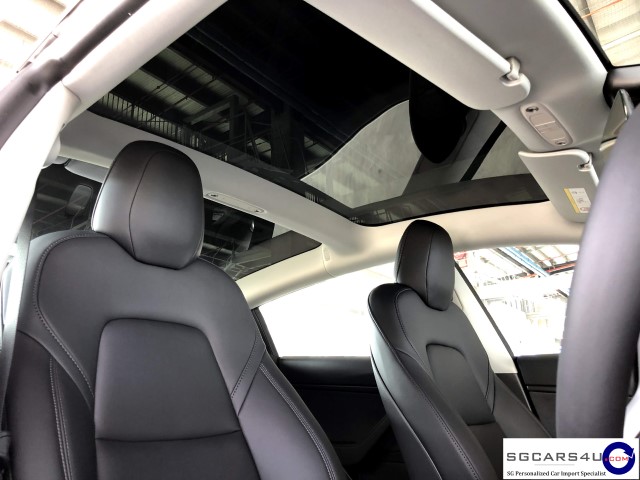 Size
Measuring in at 4,690mm long and 2,080mm wide including mirrors, the Model 3 is slightly shorter and wider than a BMW 3 Series. It feels far better suited to Singaporean roads than its Model S and Model X siblings as a result.
Leg room, head room & passenger space
The Model 3 is designed to carry five adults in comfort and it manages that task well: there's loads of space in the front, while rear-seat passengers get enough head and legroom to enjoy a longer journey – though foot space is lacking slightly.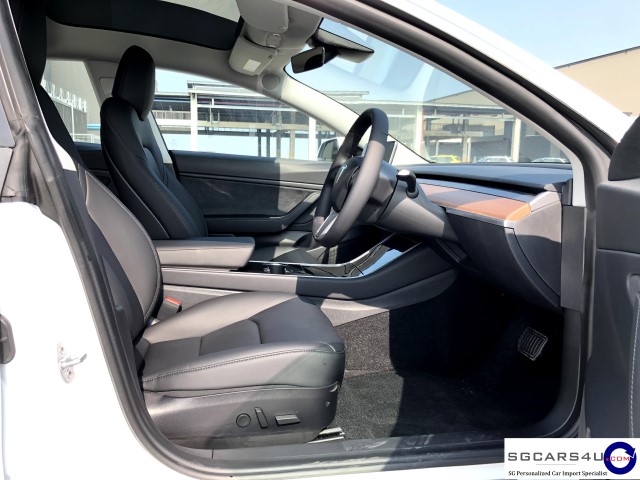 Boot
The Model 3 boasts a total of 425 litres of boot space when both front and rear storage areas are added together – shy of the BMW 3 Series' storage space by around 55 litres. The rear boot seems large but a relatively small opening limits its flexibility when compared to a hatchback. The front boot is big enough for two small soft bags but can't quite swallow suitcases like one on the Model S.
Flexibility is enhanced by split-folding rear seats and an extra storage compartment under the rear boot floor.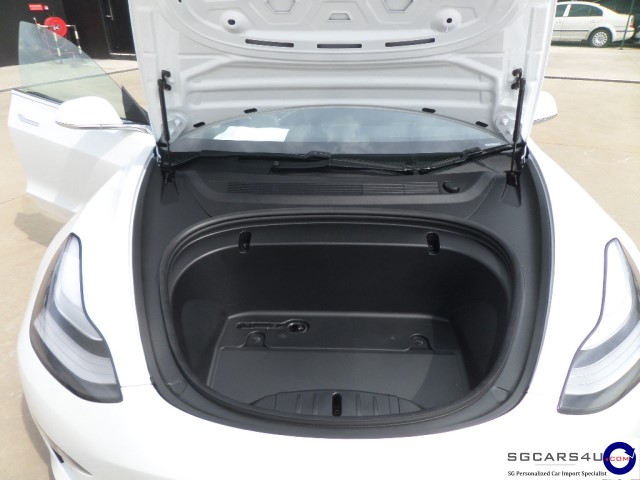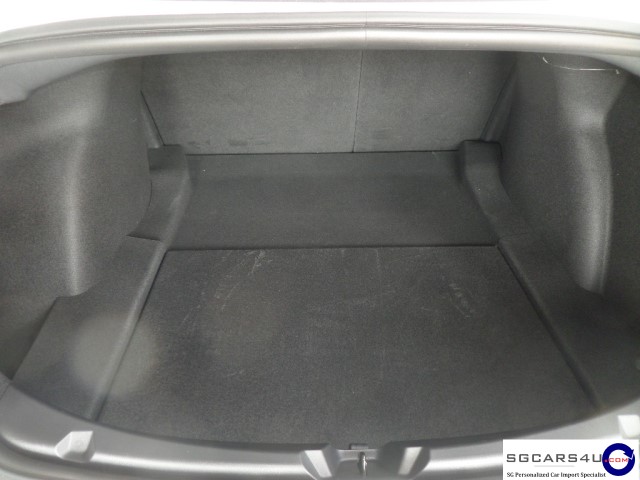 ---
Charging of a Tesla in Singapore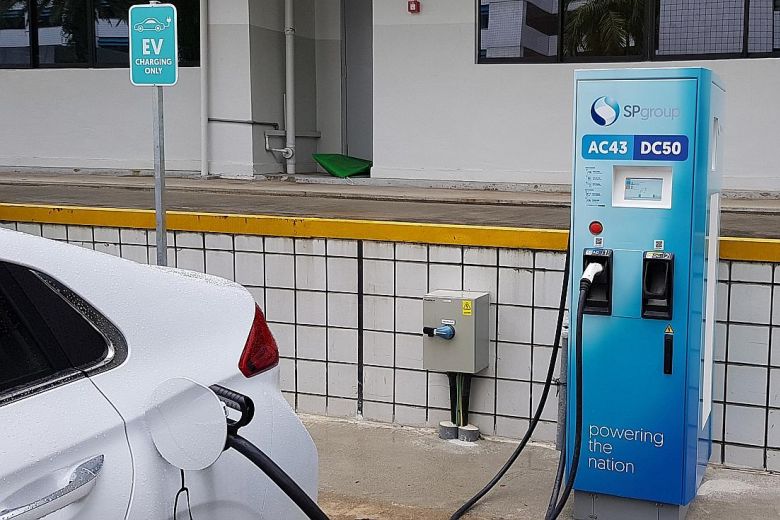 Drivers in Singapore are likely to have encountered public charging stations in carparks around the island.
Different stations offer different charge power – meaning some can charge faster than others. Some cars can accept more charge power than others too.
At the moment the fastest charge stations offer 50kW of direct current power, which is enough to fully charge most electric cars in less than an hour. SP Group launched the first batch of these in early 2019 along with a number of 43kW alternating current charging stations, with the aim to have 1,000 stations around the island by 2020.
ChargeNow-Greenlots were an early market entrant, with 34 public charge stations available.
BlueSG – a car-sharing scheme running electric vehicles – already had 191 stations with 755 charging points running in April 2019, with 99 charging points in HDB, URA and JTC carparks available for private EV owners. By 2020 BlueSG aims to have 2,000 charging stations island-wide, with 400 available to the public.
Owners in private condominiums need to negotiate with the Management Corporation Strata Title in order to install charge points, while owners of landed properties can do what they please. EV owners can also use adaptors to plug into household outlets, though the charging times are quite long, typically overnight.
Drivers needn't be overly concerned about travelling to Malaysia, with charge points (some offering free charging) available on the North-South Expressway, in Johor, Malacca, Kuala Lumpur, Penang and other locations, though they're fairly rare on the East Coast.
Plugshare is an app that helps owners find charging stations, and lists the type of socket available.
There are three standard sockets in general use locally: J1772 (or Type 1), an early standard for up to 7.4kW; Type 2, which is the current European standard for up to 43kW; and CCS Combo2 for up to 170kW. The latter two are the current local standards, though some Type 1 stations exist – adaptors can be used. There's a Japanese standard called CHAdeMO and a Tesla standard too, though we are unlikely to see them here.
---
Is a Model 3 cheaper than a BMW 330i or Mercedes C200?
Let's pit the Tesla Model 3 Standard Range Plus against the usual likes of the BMW 330i and the Mercedes C200 saloon.
To make things simple, we compare the costs based on an annual mileage of 20,000km and an experienced driver with 50% NCD from year 2021 (assuming current VES scheme applies).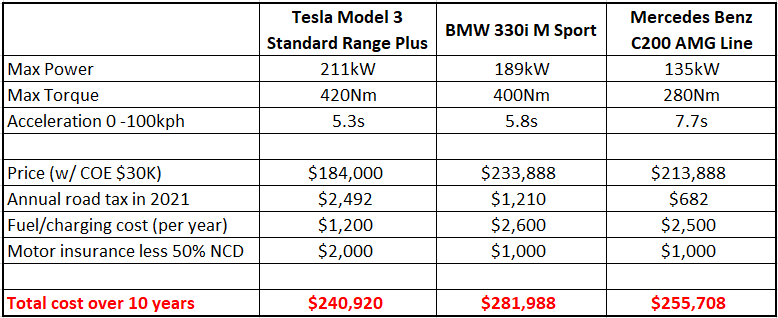 As you can see from above tabulated comparison, it is pretty clear that the total cost of a Tesla Model 3 Standard Range Plus over a period of 10 years ownership in Singapore is much lower than the BMW 330i and the Mercedes Benz C200. And this has not even considered the reduced cost of maintaining a Tesla EV as compared to that for the two other gasoline competitors.
Electric vehicle maintenance consists mostly of ensuring the electric and power systems are healthy (the onboard systems should do that already), brake pads and brake fluid are fresh, and tyres are usable. No engine means no spark plugs, no oil or air filters or similar consumables, less coolant and fluid replacements needed.
A key concern for EVs, as it was for hybrids, is battery longevity. Reassuringly hybrid cars have shown that there are no major issues with battery packs and their lifespan – and it looks to be the same for EVs too. Modern power electronics are very good at keeping the batteries in peak working condition (charge levels, temperature etc), so battery packs are rated for the lifetime of the vehicle.
Tesla owners around the world, for example, have experienced good longevity with their cars. According to predictive models, the batteries can retain up to 80 percent charge after 840,000km.
---
Summary - Tesla Model 3
Pros: Green, lower annualized cost, cheaper charging cost, lesser parts to maintain
Cons: Higher road tax and insurance, finding a public charging station
Check out our Facebook page for our latest arrivals of the Tesla Model 3 Standard Plus and Long Range AWD in Singapore.
Stay connected to our Youtube channel for all latest Tesla model insights.
Price (w/o COE) starts from S$154,000 for the Standard Range Plus RWD trim and from S$179,000 for the Long Range Dual Motor AWD trim.