Skoda Octavia Estate vRS 2021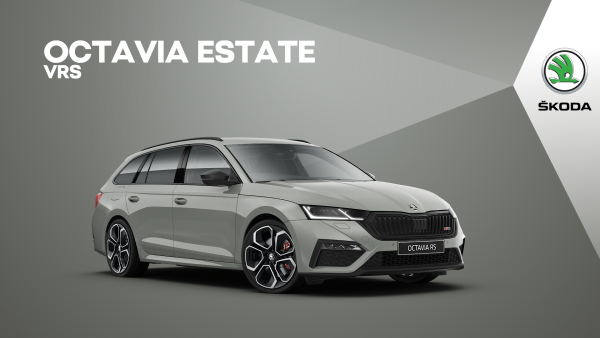 The 2021 Skoda Octavia vRS Estate/Combi is practical performance distilled. It offers loads of space for passengers and a humungous boot, paired with punchy engines and an agile drive. Compared with the VW Golf GTI, Ford Focus ST and Honda Civic Type R, The vRS offers serious space as well as back-road pace. It's a bit like Usain Bolt wearing an army-issue rucksack.
The new Skoda Octavia vRS Estate takes the recently revamped Octavia and adds plenty of sporty features. Its front grille now gets a moody black finish, there's a huge new air intake in the bottom half of the front bumper and the plastic trims above the fog lights come painted black, too. Lowered suspension, and larger alloy wheels complete the Octavia's vRS makeover.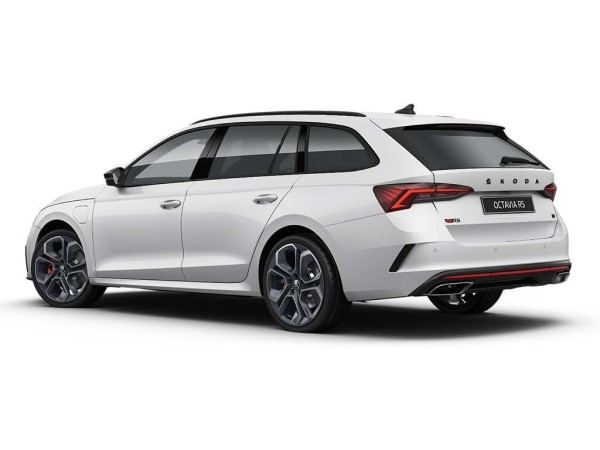 Better still, the new one is efficient, too, because it features a range of new tech including an optional hybrid system. The hybrid model shares its hybrid drive tech with the new Cupra Leon ST, and goes up against hot estates such as the Leon and the Ford Focus ST.
The new Skoda Octavia vRS Estate's interior follows a pattern set by the latest VW Golf and SEAT Leon. Everything's very simple, minimalist and (mostly) button-free. It features a large central touchscreen infotainment system, a digital driver's display instead of conventional analogue dials and a dinky selector switch instead of a chunky gear lever.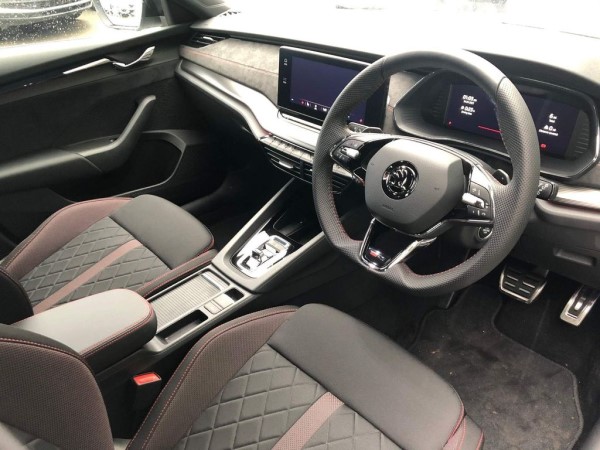 Its dashboard has a slightly more flowing design to it than these cars, though, and you get plenty of bright red trims to make sure you don't mistake it for the standard Octavia inside. Red mood lighting on the doors and red stitching on the more supportive sports seats add to the vRS's sporty demeanour, as do the embroidered headrests and vRS-specific graphics on the driver's display.
The new Skoda Octavia vRS Estate is available as a vRS iV hybrid model. This uses the same combination of 1.4-litre petrol engine and electric motor as the new VW Golf GTE and hybrid variants of the Cupra Leon ST.
As a result, it produces an identical 245ps and drives the front wheels through the same six-speed DSG automatic gearbox. Skoda says it'll reach 100kph from rest in less than 7.3 seconds and reach 225kph. You'll also be able to travel for around 62 km using just electric power.
The low CO2 emissions of up to 36g/km should also make the car attractive to company car user-choosers.
However, estates are all about carrying capacity, and the positioning of the PHEV's batteries beneath the boot floor compromise space by 150 litres.
The new Octavia Estate isn't just going to come as a hybrid, though – you'll also be able to get a purely-petrol-powered version with a 245ps 2.0-litre engine. This is the model that we are retailing here in Singapore and it comes with a seven-speed DSG automatic, and it also features an electronic limited-slip differential for maximum traction out of corners. For petrol-heads who insist on getting the vRS with a six-speed manual gearbox, do not fret as you can do a custom factory order.
Finally, there'll also be a 200hp 2.0-litre diesel-powered Octavia vRS Estate (on indent basis). This model will ditch the manual gearbox option and come with the seven-speed auto as standard. But, you will be able to upgrade from front- to four-wheel drive for a bit of extra traction in slippery conditions.
So, if you like your estate with a decent dose of space and pace, look no further than the Skoda Octavia Estate vRS.
Skoda Octavia Estate vRS 2.0 (A)
| | |
| --- | --- |
| ENGINE | 1984cc, 16-valves, inline-4, turbocharged |
| MAX POWER | 242hp at 5000rpm |
| MAX TORQUE | 370Nm at 1600-4300rpm |
| TRANSMISSION | 7-speed DSG |
| 0-100KM/H | 6.7seconds |
| TOP SPEED | 250km/h |
| VES BAND | B |
| CONSUMPTION |  5.85 litres per 100km |