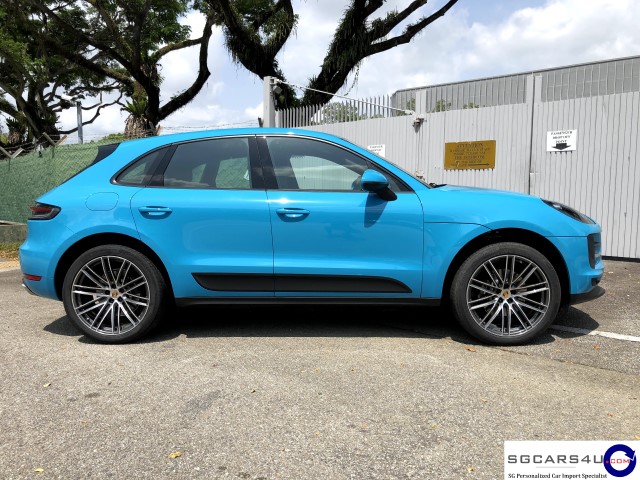 The Porsche Macan is one of the most popular Porsche sold worldwide. It's an SUV with a desirable badge, how could it not be a success? Thing is, the Macan has always overdelivered in just about every department. It'll go further off-road than most owners will ever ask, it'll hammer down a twisting road with more skill than most drivers would have the nerve to test, and it'll seat five in front of a class-leadingly big boot. Porsche got the Macan right first time.
So its mid-life update is wisely subtle. On the outside there are new headlights peering through a reprofiled bonnet, tweaked door mirrors and some lairier paint hues. The only exterior change you'll actually notice, however, is the full-width rear light bar, which apes the look of the new 911. (And Panamera. And Cayenne. And Taycan… yep, the Germans know a motoring fashion trend when they see one.)
Inside, there's a much more significant makeover. The air vents have been relegated lower down the order, to make way for a bigger touchscreen featuring a much more feature-packed interface inherited from pricier Porsches. However, the engineers have pulled up short of pinching the entire Cayenne's interior, so banks of physical buttons remain instead of touch-sensitive glass panes.
Engines have also been thoroughly overhauled for the new Macan. First off, there's no longer a Macan Diesel. Porsche has dropped diesel entirely from its range, which might seem odd given it fuelled the most popular Macan on UK shores.
Assuming its position as the entry-level Macan is a new 2.0-litre turbocharged four-cylinder petrol version, badged simply 'Macan' and running a Porsche-honed version of the VW Golf GTI's engine. All Macans arrive fitted to a seven-speed dual-clutch gearbox as standard (badged by Porsche as PDK), though note this isn't as modern as the eight-speed PDK used in Porsche's bigger four-doors.
There are three Macans beyond that, all using Audi-sourced V6 petrol engines. There's the Macan S (350bhp), the Macan GTS (375bhp) and Macan Turbo (435bhp). The latter is as close as the Macan gets to taking on the Alfa Romeo Stelvio Quadrifoglio and Mercedes-AMG GLC63 in the small super-SUV stakes, though is someway off their power claims.