Mercedes GLB
If you need to carry seven people around, you'd normally have to choose between a huge – and often expensive – SUV, or a cheaper, but much less stylish, people carrier. The Mercedes GLB 2020, however, aims to offer the best of both worlds thanks to its compact SUV-style body having just enough space inside for seven.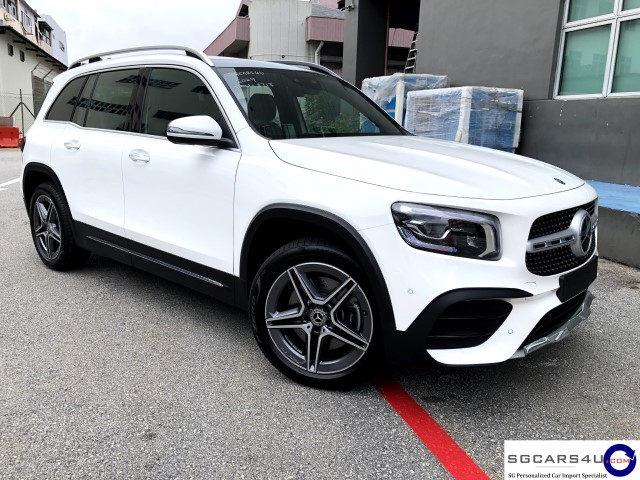 Unlike the Land Rover Discovery Sport and Skoda Kodiaq, the Mercedes GLB is quite compact for a seven-seater. But, there's still enough space on its boxy body to pack plenty of chrome, loads of plastic faux-air vents and a whopping great front grille. Combined, these features make it look more like a baby GLS than an overblown hatchback.
Step inside, and you'll be greeted by an equally posh-looking interior. The Mercedes GLB's cabin looks a bit like it was drawn by someone copying the A-Class' homework, but with enough changes to make sure they avoid getting put in design detention. The familiar five brushed-metal air vents look fantastic and most of the materials feel nice and yielding.
Unfortunately, the entry-level infotainment system lets the side down – you'll definitely want to upgrade to the Premium trim with the larger 10-inch screens instead of the standard car's weedy 7-inch units.
You do at least get Apple CarPlay and Android Auto smartphone mirroring as standard, but only top-spec Premium Plus cars come with electrically adjustable seats. There's plenty of room in the front five seats for adults to get comfy, but the sixth and seventh seats are only big enough for people shorter than 1.75 m and the Mercedes GLB's boot can't match that in a Discovery Sport or Skoda Kodiaq.
The Mercedes GLB 7 seater SUV has the edge over these cars when driving in town, however. Its smaller size makes it fairly easy to manoeuvre and it'll soak up the thud of large potholes pretty well, too.
Other SUVs are quieter to travel in at motorway speeds, however, and the Mercedes GLB doesn't come with a great many engines to choose from. That said, the GLB 200 petrol model is perfectly suited to pottering around town and the GLB 220d diesel makes a good motorway cruiser.
Neither, however, makes the Mercedes GLB SUV particularly good fun to drive on a twisty back road, and you'll have to pay extra for a top-spec car if you fancy a full suite of driver assistance systems.
If you're happy to fork out for a few optional extras and want your practical SUV to be more comfortable and stylish than it is sporty, you should consider the Mercedes GLB. Sure, alternatives are cheaper and more practical, but few small SUVs can transport seven people as stylishly as the GLB.
How practical is it?
The Mercedes GLB is one of the very few compact SUVs that come with the option of seven seats. However, do not underestimate those rearmost perches, as passengers as tall as 1.75 m can sit in the second and third row of seats and yet still leave some space left in the boot for your weekly shopping.
Passenger Space
The Mercedes GLB's boxy body and large front doors mean it's a doddle to climb into the front. Like other seven-seat SUVs, you step up, rather than down, into the driver's seat and the large windows give you a decent view out.
It's easy to find a comfortable seating position too, thanks to the standard mechanical driver's seat adjustment and a steering wheel that can be moved for height and reach. On a similar note, you don't get electric passenger seat adjustment as standard – for that you'll want to pay extra for a high-spec AMG Line Premium Plus model (which are shown in the photos below).
However, there's always space under the front seats for tall passengers sitting behind to slide their feet. Speaking of which, there's ample space for a six-footer in the back and you get sliding and reclining seats as standard to give knee- and headroom a helpful boost.
Wherever you position these seats, you'll find there's plenty of headroom to go round – even in cars fitted with a sunroof – and there's just enough space in the GLB's cabin to carry three adults side-by-side. Although, the central seat isn't quite as softly padded as the outer two.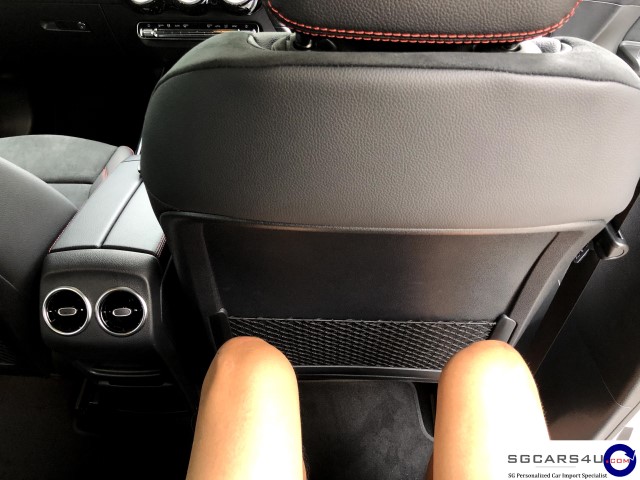 The same can be said for the rearmost two seats that come as standard in Sport, AMG Line and AMG Line Premium Plus models. These fold away under the boot floor and can be raised by pulling on a fabric tether attached to the seat base; though it's a shame you can't reach these from the back doors. The middle seats flip forward and slide out of the way when you pull a tab beside the outer headrests, but taller kids will find it a bit of a struggle to squeeze through this tight gap.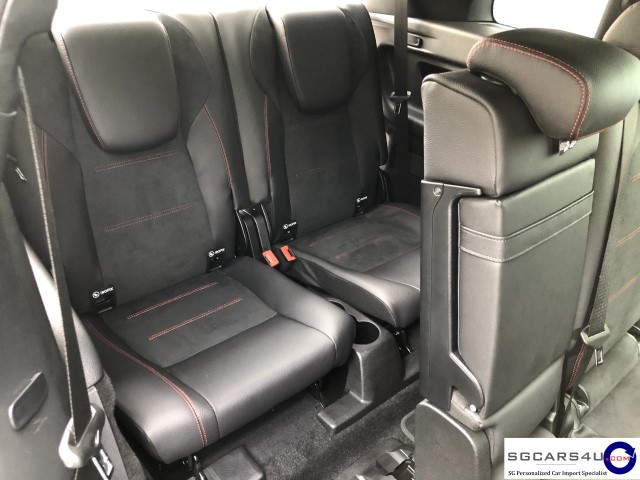 There's a decent amount of space for children to get comfy once they've climbed in – if not as much as you'll find in a Land Rover Discovery Sport – and the Mercedes GLB's relatively large side windows mean that the third row of seats doesn't feel too cramped or claustrophobic.
If you need to carry very young passengers, you'll find it easy to lift a bulky baby seat through the Mercedes GLB's wide rear door openings and the exposed Isofix anchor points help make it dead easy to lock it in place.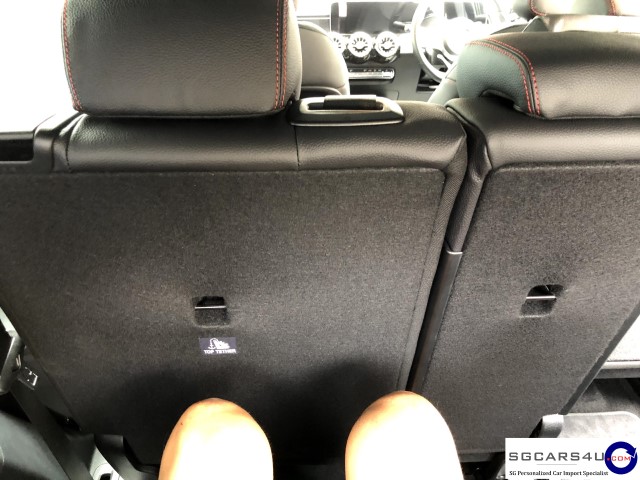 Boot Space
With all seven seats in place, you'll have barely enough space in the Mercedes GLB's boot to carry a couple of soft bags. Flip the third row of seats down, however, and you'll open up a 455-litre loadbay in petrol-powered cars and a 570-litre boot in diesel-powered models. That's big enough for a few suitcases and a baby buggy.
That said, at least the Mercedes GLB's boot is easy to load thanks to its flat load lip, and it has a few shopping hooks and tie-down points to help keep everything secure. There's also a handy slot under the floor for storing the load cover – something you'll have to do each time you want to use the rearmost seats.
Flip the middle row of seats down – using levers beside the outer headrests – and the Mercedes GLB's boot grows to 1,540 litres in petrol models and 1,805 litres in diesel-powered versions. That's big enough for a bike or a good-sized Ikea haul, but still significantly less than you can fit in the 2,065-litre boot of a Skoda Kodiaq.
That said, at least the Mercedes GLB's flat boot floor means it's dead easy to slide heavy boxes right up behind the front seats.
The Mercedes GLB is comfortable and easy to drive, but alternatives are more fun, quieter at speed and come with a wider range of engines.
Performance and Economy
You can get the Mercedes GLB with two petrol (GLB 200 and GLB 35) and two diesel (GLB 200d and GLB 220d) engines, and with either front- or four-wheel drive – depending on which model you pick.
The entry-level 1.3-litre four-cylinder 200 petrol with 163hp is ideally suited to pottering around town. It's smooth, fairly quiet, and reasonably punchy – although accelerating from 0-100kph still takes the best part of nine seconds. Mercedes claims it'll return close to 17km/l, which you should be able to get close to in normal driving conditions.
If you do lots of long journeys, one of the two diesel cars will be a better choice. The more affordable 2.0-litre four-cylinder GLB 200d model comes with 150 hp and returns close to 21 km/l (so Mercedes claims). It's slightly faster to reach 100kph from rest than the GLB 200 petrol but isn't quite as smooth when you accelerate hard.
The more powerful 190 hp GLB 220d version of the same engine has less trouble getting up to speed – thanks in part to its standard four-wheel-drive 4MATIC system – and reaches 100 kph from rest in around 7.6 seconds. Despite this, it only loses out to the GLB200d by around 2 km/l.
You can get the GLB 200d model with the same four-wheel-drive system as GLB 220d versions, but it blunts both performance and fuel economy so is only worth considering if you're planning to take your GLB off-road.
Driving
The Mercedes GLB's raised body and large, square windows give you a reasonably good view out. The pillars beside the windscreen don't produce too many blindspots at junctions and it's dead easy to check over your shoulder before changing lanes on motorways.
However, the large rearmost pillars can make parking a little tricky and the upright windscreen design can block your view of high-level traffic lights if you're tall and prefer to sit quite far back.
That said, the Mercedes GLB is still fairly easy to drive in town, thanks to its light controls and standard automatic gearboxes. The eight-speed unit you get in all but petrol-powered models are smooth and responsive, but the petrol's seven-speed box can be a bit ponderous at times.
Head down a twisty country road, and you'll find the Mercedes GLB leans a little more than many similar-sized SUVs, but not to the extent that passengers in the back will have any great reason to feel car sick. If you're looking for a small-yet-sporty seven-seater SUV, there's always the AMG-tuned Mercedes GLB 35 to consider, after all.
If you're more interested in your new SUV being safe rather than sporty, you should check out the driver assistance systems that come as standard in AMG Line Premium Plus models. These include blind-spot warning, automatic emergency braking, adaptive cruise control, traffic sign recognition and evasive steering assistance to help keep your safe and take the sting out of long stints behind the wheel.
What's it like inside?
The Mercedes GLB interior looks and feels great, but the infotainment system in entry-level models looks pretty dated compared to the top-spec bells-and-whistles unit.
Style
At a glance, the Mercedes GLB's interior looks pretty similar to that in an A-Class hatchback. You get a similar minimalist design, metal-effect air vents and plenty of glossy plastic and shiny metal-effect trim, but the staggered dashboard design is new and makes you feel more like you're sitting up high than hunkered down low.
The dual-screen infotainment system looks just like the one you'll find in many other Mercedes cars and outclasses even the triple-screen arrangement you'll find in a Land Rover Discovery Sport for outright flashiness.
Entry-level Sport versions come with fancy velour floor mats and some man-made leather seats, while all AMG Line versions come with partial faux-leather seats, suede-effect trim and contrasting red stitching. These sportier cars also get stainless steel pedal trims and a Nappa leather steering wheel with a set of lovely metal gearshift paddles.
Pay extra for an AMG Line Premium or Premium Plus model and you get 64-colour ambient lighting, although you'll find particularly garish colours produce distracting reflections in the side windows and door mirrors at night.

Infotainment
Unfortunately, the Mercedes GLB's interior is slightly let down by the two rather small 7-inch infotainment displays you get as standard in Sport and AMG Line models. These, while bright and fairly crisp, are framed by a huge black plastic shroud that serves as a constant reminder that you should have forked out for an AMG Line Premium model with its beefier 10.25-inch displays.
You can control and customise these screens using buttons on the steering wheel, the touchpad on the centre console, or as a touchscreen – whichever you prefer.
The Mercedes GLB also comes with one of the most advanced voice-command systems around. This MBUX personal assistant feature lets you change the cabin temperature, alter the stereo tuning and program the sat-nav using the phrase 'Hey Mercedes'. Unfortunately, it isn't quite as reliable as the similar system you can get in many modern BMWs.
Even without this system, which comes as standard in AMG Line Premium Plus cars, it's easy to input an address into the sat-nav, and you can easily swipe and pinch to preview your route on colourful, high-resolution maps. The directions are easy to follow, too – especially in Premium and Premium Plus models with their clever augmented reality feature that displays direction arrows over a video feed taken from a front-facing camera.
The Mercedes GLB comes with Apple and Android smartphone mirroring as standard, so you can use your phone's navigation apps through the car's built-in display if you aren't a fan of Mercedes' system. These are dead easy to set up, but you can't view your phone's maps on the digital driver's display, which is a shame.
The standard Apple CarPlay and Android Auto systems also let you play tunes from streaming apps such as Spotify through the Mercedes GLB's stereo. That said, you won't be particularly impressed by the entry-level 100W stereo in Sport and AMG Line models, but the 10-speaker 225W unit in Premium and Premium Plus models sounds much punchier.

The Mercedes GLB is available to order in the following variants:

Mercedes GLB Review
Check out a local review of the Mercedes GLB 2020 here.