Mercedes Benz GLA 2021
Unlike the old model, which looked like a hatchback on jacked-up suspension, the 2020 Mercedes Benz GLA looks like a proper SUV, albeit a small one. It's 10 cm taller than the old model and in practice, that means it gets a bluff new front and a squarer back end. It's still 100% recognisable as a Mercedes though, meaning you get a big bold grille flanked by pretty LED headlights, curvey flanks with wheels up to 20-inches in size and jewel-like tail lights which mean the GLA looks a cut above mainstream SUVs even at night. The GLA is based on Mercedes' MFA platform which underpins eight separate models covering everything from the A-Class Saloon to the CLA Shooting Brake estate and seven-seater GLB.
Interior - Mercedes Benz GLA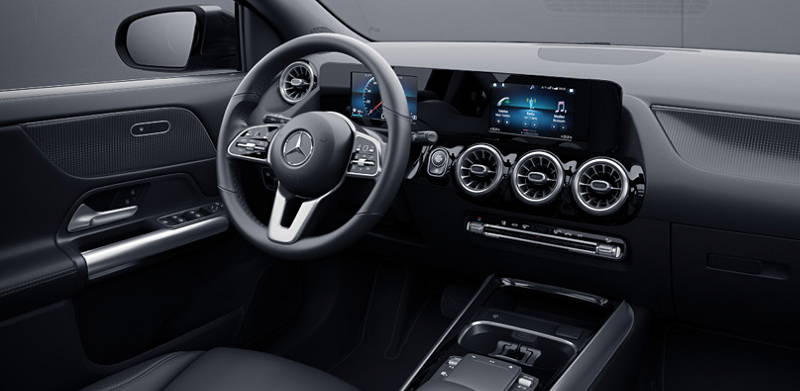 That posh theme continues on the inside where your eyes are met by Mercedes familiar cabin design that's dominated by a pair of huge (and naturally optional) infotainment screens which are controlled using Mercedes new MBUX operating system. It has advanced voice recognition that sparks into life when you say "Hey Mercedes…". It responds to colloquial requests, so saying "Hey Mercedes, I'm hot" will have it tune down the air-con temperature and cool you down.
The system also includes Mercedes augmented reality sat-nav which can overlay directions onto an image of the road on the car's central infotainment screen. Not only does this look uber cool, it also very functional making it easy to navigate complex roundabouts and junctions.
Practicality
Because the new Mercedes Benz GLA has a proper boxy SUV body – unlike the old GLA which looked like a normal car on raised suspension – it offers significantly more interior space than before.
That'll be most felt in the back where rear legroom has increased by more than 11 cm. If you're feeling particularly generous to your rear-seat passengers, you can even specify a rear seat that can slide back by up to 14cm and recline a few degrees so your mates in the back can lounge out on long journeys.  The 435-litre boot, meanwhile, is also 14 litres bigger and there's no load lip to lift your luggage over.
Engines and Driving
The standard Mercedes GLA will be available with two petrol engines and two diesel engines. The basic 163 hp GLA 200 has a 1.3-litre turbocharged engine mated to a seven-speed twin-clutch gearbox. That combination is good for 0-100 kph in 8.7 sec and fuel economy of nearly 21 km/l.
Want more performance? Then you'll want to upgrade to the GLA 250, which gets you a 224 hp 2.0-litre petrol engine and an eight-speed twin-clutch gearbox. The GLA 250 gets from 0-100 kph in just 6.9 secs and is limited to a 250 kph top speed.  It can even return fuel economy of nearly 17 km/l.
Safety
All Mercedes Benz GLA come with automatic emergency braking as standard but you can take safety to the next level by adding the Driving Assistance Package. It can accelerate, brake, steer and even change lanes for you on the motorway. Also included is Evasive Steering Assist which detects imminent collisions and, if there's no space to stop, takes control of the steering to swerve you around the accident.
Specifications - Mercedes Benz GLA

The new 2020 Mercedes Benz GLA is available to order in the following trims: