2021 Tesla Model Y
The Tesla Model Y is the more upright, SUV-style version of the smaller, cheaper Model 3 - and it could arguably be an even more important car for the pioneering EV company. It's Musk's version of the baby, crossover SUV which is poised to be one of the most important sectors in the rapidly growing Asian market.
What platform is the Model Y based on?
The Model Y takes design cues from both the Model 3 saloon and Model X large SUV, with a glass panoramic roof and optional seven-seat layout. It doesn't feature the gullwing doors found on the more expensive Model X, using instead pillarless doors similar to those of the Model 3 and Model S.
The crossover is around 10% larger than the Model 3 – with which it shares a platform and as many as 75% of its components – putting it close to the BMW X3 and Mercedes-Benz GLC in size. Musk said that the Model Y had "the functionality of an SUV but rides like a sports car", with a low centre of gravity and a drag coefficient of 0.23Cd.
This is most evident when it comes to the interior – it's pretty much exactly the same design as the 3's cabin, complete with a large central touchscreen display providing all of your required information in one place. Whether that's a good or a bad thing depends on your thoughts on touchscreens...
Tesla says Autopilot is still a thing, as is remote unlock via an app (a key is so 20th century), the usual summon function and preconditioning.
The Model Y is a seven-seater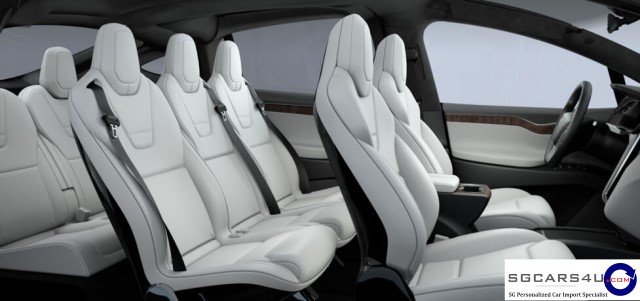 This baby SUV has room for up to seven adults with its optional third row. The Model Y has three individual folding second row seats. Different compared to Model 3. But will work out great hauling longer items. You can drop just the middle seat and still have room for 4 passengers.The total storage space is claimed at more than 1800 litres.
Inside, the Model Y has a similar interior layout to the Model 3, with a single 15.0in touchscreen interface containing all of the car's controls, and no traditional instrument cluster. It also includes the same "self-driving" hardware, including Autopilot, which can be unlocked for a fee and upgraded wirelessly as new features gain approval from regulatory bodies.
Split-folding second-row seats and a front boot provide a maximum storage space of 1869 litres. Its rear hatchback should prove more convenient when loading than the Model 3's tailgate.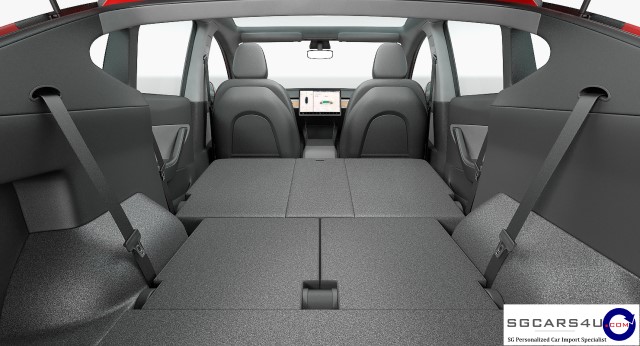 What will the electric range of a Model Y be?
The Model Y will have two different battery range options: Long Range and Performance, both being AWD.
Tesla says the Long Range car claims up to 507km of range, with the Performance version capable of up to 480km. A 3.5sec 0-100kph time is claimed for the Performance version and is capable of topping 240kph.
When can I buy a Model Y and how much will it cost?
Tesla says deliveries are expected to start around early to mid 2022 for all versions.
Indicative pricing (w/o COE) of a Model Y in Singapore should fall in the range of $219,000 to $259,000.
---
Contact Us Now